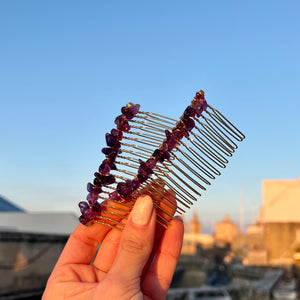 Inspired by vintage hair accessories, these comb clips are done with Amethyst semi-precious stones and soft wire so they'll be gentle on your scalp. 
Amethyst is a natural tranquiliser, it relieves stress and strain, soothes irritability, balances mood swings, and dispels anger, rage, fear and anxiety. Alleviates sadness and grief, and dissolves negativity. Amethyst activates spiritual awareness, opens intuition and enhances psychic abilities. 
Also available in different semi-precious stones.