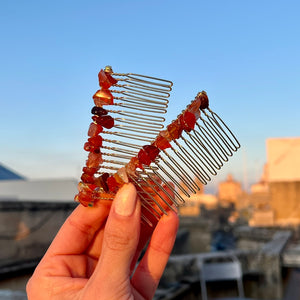 Inspired by vintage hair accessories, these comb clips are done with Red Carnelian semi-precious stones and soft wire so they'll be gentle on your scalp. 
It symbolises bold energy, warmth, and joy that lingers as much as it empowers and stimulates. Carnelian's meaning is known for being a stone of courage, endurance, energy, leadership, and motivation.
Also available in different semi-precious stones.