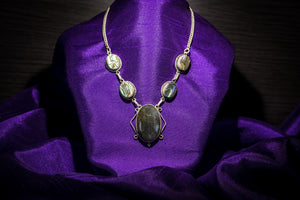 Handcrafted 925 Sterling Silver Labradorite and Abalone necklace. A creation featuring a bespoke silver necklace adorned with authentic gemstones displaying vintage finish and exquisite cutout detail.
Destiny • Awareness • Light

With brilliant rainbow hues, this Labradorite Necklace is perfect! Labradorite helps to purify your energy and connect you with the energy of light. Having Labradorite in your space creates an energetic shield that protects your aura and strengthens your personal energy supply. It helps you to unfold your true-life purpose and uncover your destiny
Calming • Soothing • Healing

The Abalone Shell Stone pieces hold the energy of the ocean, bringing great healing and soothing energy. Carrying it with you allows you to remain connected with the energy of the ocean, even when you are on land.