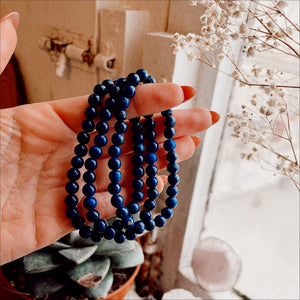 8mm beads Lapis Lazuli Beaded Bracelet 💙
Lapis lazuli is a highly spiritual stone and is known as the stone of truth and friendship. It brings harmony, love and protection to relationships. It also helps aid awareness and good judgement, which can help deepen relationships.
• Beautiful stretch beaded bracelet with genuine gemstones ✨
• This bracelet is strung on a nylon elastic cord. To put it on and to remove it, simply roll it around your hand.
👉 PLEASE NOTE:
• We are working with natural stones, so please note that the look of the beads can slightly vary in their shades, size and shape.