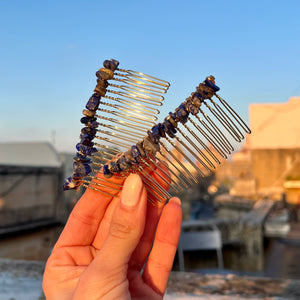 Inspired by vintage hair accessories, these comb clips are done with Laips Lazuli semi-precious stones and soft wire so they'll be gentle on your scalp. 
Lapis lazuli is a powerful stone for thinking and spirituality, and it has a very high vibration. It's believed to increase self-knowledge and awareness of one's own thoughts and can help you to trust your inner wisdom.
Also available in different semi-precious stones.