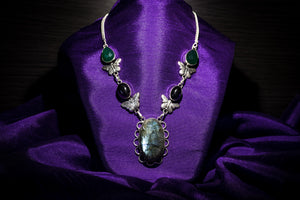 Black Onyx is a protective stone that shields your mind, body and spirit from negative energy. Onyx also helps to enhance your endurance and persistence.
Amethyst opens your third eye to enhance and strengthen your intuition. As you begin trusting your intuition, you learn to trust that you know what is best for yourself. Work with Amethyst stones to flex your intuition muscle and let your intuition guide you in the right direction. This process takes time -- your ability to hear and listen to your intuition doesn't always happen overnight. Amethyst helps you energize your centre of intuition to more easily connect to your inner voice. When you develop a strong relationship with your intuitive powers, you will no longer question yourself or your choices. Let over-analyzing and over-thinking be a process of the past. The clarity and relaxation that amethyst brings allow you to uncover your true inner wisdom, without distraction or doubt. The amethyst meaning also facilitates spiritual growth. When you are connected to your intuition, you can show up as your truest, highest self in all situations. Spiritual awakening becomes more accessible when you unlock your intuitive powers and connect to a higher state of being.
Labradorite is a stone of destiny and power that connects you with the energy of light. It raises consciousness and helps you become more self-aware. Its flashes illuminate the expansiveness of your mind and of the universe. Labradorite boosts your spiritual and mental power by connecting to and energizing the chakras.