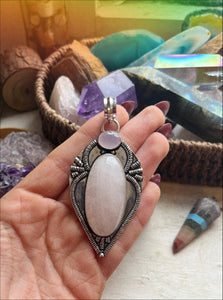 This is a handmade Rainbow moonstone and Rose Quartz Pendant. It is plated with silver 925. One of a kind design. 
Rainbow moonstone brings balance, harmony and hope while enhancing creativity, compassion, endurance and inner confidence. Rainbow moonstone is believed to help strengthen intuition and psychic perception, especially offering us visions of things that aren't immediately obvious.
Rose quartz is a healing crystal and the stone of unconditional love. It's believed by some to emit strong vibrations of love, which are thought to: support emotional and relationship healing and inspire compassion.