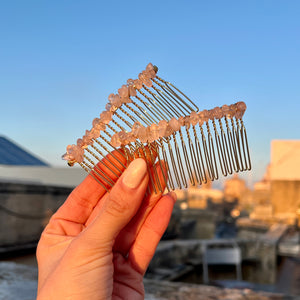 Inspired by vintage hair accessories, these comb clips are done with Rose Quartz semi-precious stones and soft wire so they'll be gentle on your scalp. 
Rose quartz is known as the crystal of unconditional love. It's said to boost feelings of self-love and foster loving relationships with others. Smoky quartz is considered a grounding stone and may help you feel rooted to planet earth. It's believed to be mood-lifting and is used for protection.
Also available in different semi-precious stones.