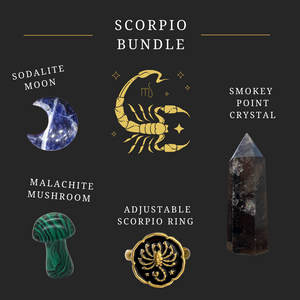 Get ready for Scorpio season, the most intense part of the year with your Scorpio bundle ♏
Bundle includes: x1 adjustable Scorpio ring, x1 30mm Sodalite Moon, x1 25 * 17 * 10mm Malachite Mushroom and 50 - 60mm Smoky Point Crystal.
Available by pick up or delivery. 
Scorpio season marks the beginning of eclipse season, with the first partial lunar eclipse in Taurus on November 19. This is — you guessed it — yet another sign that things are about to change. "Eclipses are cosmic portals, mixing the past with the present and the future," Montúfar says. "During this time, the cosmos will release all the change that has been building up during the entire year, so those who have been resisting it might experience it the most." And for those of us that have been craving a meaningful shift, Montúfar says there's no better time than now to initiate it.