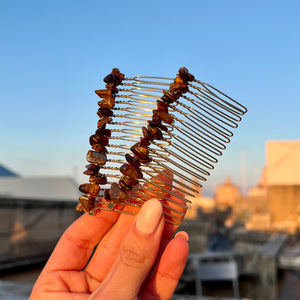 Inspired by vintage hair accessories, these comb clips are done with Tiger's Eye semi-precious stones and soft wire so they'll be gentle on your scalp. 
Tigereye promotes clear-eyed vision, helping us see ourselves and the world better. Like the great cat it's named for, this gemstone knows the importance of being attentive to the details. Tigereye is said to combine earth energy with light or sun energy, creating an intense stone that's also well-grounded.
Also available in different semi-precious stones.