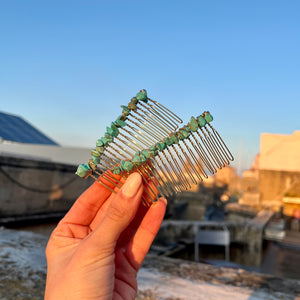 Inspired by vintage hair accessories, these comb clips are done with Turquoise semi-precious stones and soft wire so they'll be gentle on your scalp. 
It helps to get rid of bad luck and evil energy surrounding you. Turquoise has a strong connection to the throat chakra and helps to enhance communication and expression. Turquoise can also help you become more open to love and forgiveness, and release patterns of self-sabotage.
Also available in different semi-precious stones.